Our Experts Will Eliminate Smoke Odors To Your Stafford Home
9/4/2019 (Permalink)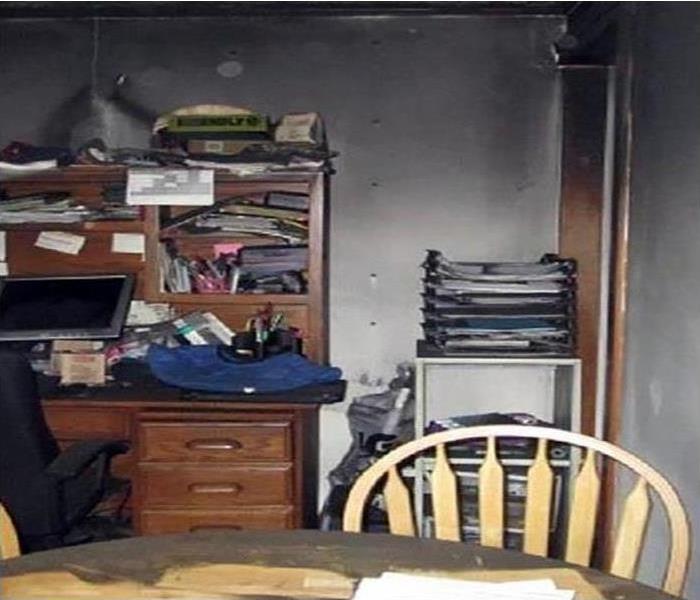 Our swift response will prevent further damage and lower your restoration costs. We are available 24/7 to offer expertise, training, and equipment.
Important Aspects of Light, Moderate, and Heavy Smoke Damage to Homes in Stafford
Living through a house fire can become a long-term stressful event for a family in Stafford. Part of the problem involves strong and unpleasant odors that can often affect every area of the house. When the weather turns hot and humid, these odors quickly seem much more noticeable. Because this happens with almost every fire, SERVPRO provides deodorization methods that fit a range of situations.
Any size fire in your Stafford home causes fire damage. While fires that burned organic substance like wood or paper smell less offensive than those involving plastics or other synthetic materials, burnt food seems highly offensive and bothersome.
Light Smoke Damage
Light smoke damage might come from a smoker in the home who used only one room, perhaps an enclosed patio, in which to light up and smoke cigarettes. Regular use of candles in a bedroom or bathroom could also build up smoke residues on walls and ceilings. Other times, a small fire that you put out soon after it started can leave a room full of smokey haze that quickly adheres to surfaces. Cleaning the surfaces often suffices in such situations, but we always make sure you find the results satisfactory before considering the work complete.
Moderate Smoke Damage
This degree of smoke and fire damage often requires our building crew to remove charred materials. Cleaning out burned belongings and other objects also removes a large amount of the odor's cause. We use a fogging system with a cinnamon scent to permeate areas beyond this. An air scrubber can help, as well, in removing particles currently in the air.
Heavy Smoke Damage
This often happens when furniture and other furnishings become heavily saturated with smoke and ash. We clean these and then place them in an ozone chamber. Untreated beams in walls often release soot particles even after rebuilding walls, so we ensure these get treated with effective sealers before installing new drywall. Anything charred needs removed and replaced – this includes warping and bubbling of surfaces.
In General
We clean these areas by stripping soot and oily residues from walls with a gentle cleaning agent on sponges. After cleaning hard surfaces, we check again for the strength of the odors. When we find enclosed spaces that harbor soot and continue to release odors, we use thermal fogging to neutralize the residue. For the most challenging odors, we use long-lasting scented beads, placed in a shallow pan, in inaccessible areas or gel-packs to eliminate the scents coming from the last remaining bits of soot. Our building services crew under Residential Contractor License # 2705165256 checks the HVAC system and performs any cleaning required to eliminate odors.
SERVPRO of North Stafford County is ready to help you eliminate smoke odors from your property. Residents in Roseville, Aquia Harbor, and Widewater Beach can depend on the professionals from the initial phone call to (540) 720-1535 to the conclusion of any restoration work. We promise to make it "Like it never even happened."
See more about Stafford.